Prof. Thomas Thum successfully completed a first clinical trial in patients with a new compound
Chronic heart failure, a condition suffered by more than two million people in Germany alone, to date can only be treated to a limited extent. Today, Prof. Thomas Thum, Director of the Fraunhofer Institute for Toxicology and Experimental Medicine ITEM and Head of the Institute for Molecular and Translational Therapy Strategies (IMTTS) at the Hannover Medical School (MHH), has been awarded the Paul Martini Prize for the identification and further development of novel RNA-based therapies for chronic heart failure. The prize is awarded each year by the Paul Martini Foundation, Berlin, for outstanding achievements in the field of clinical pharmacology and is worth 50,000 euros. "Professor Thum and his team have identified a variety of new therapeutic targets, have developed novel therapies based on these and have now tested one of these RNA therapeutics in patients for the first time. This gives hope for treatment progress and is an excellent example of translation from bench to bedside," Prof. Dr. Stefan Endres of the University of Munich paid tribute to the awardee on behalf of the six-member jury.
Effective and safe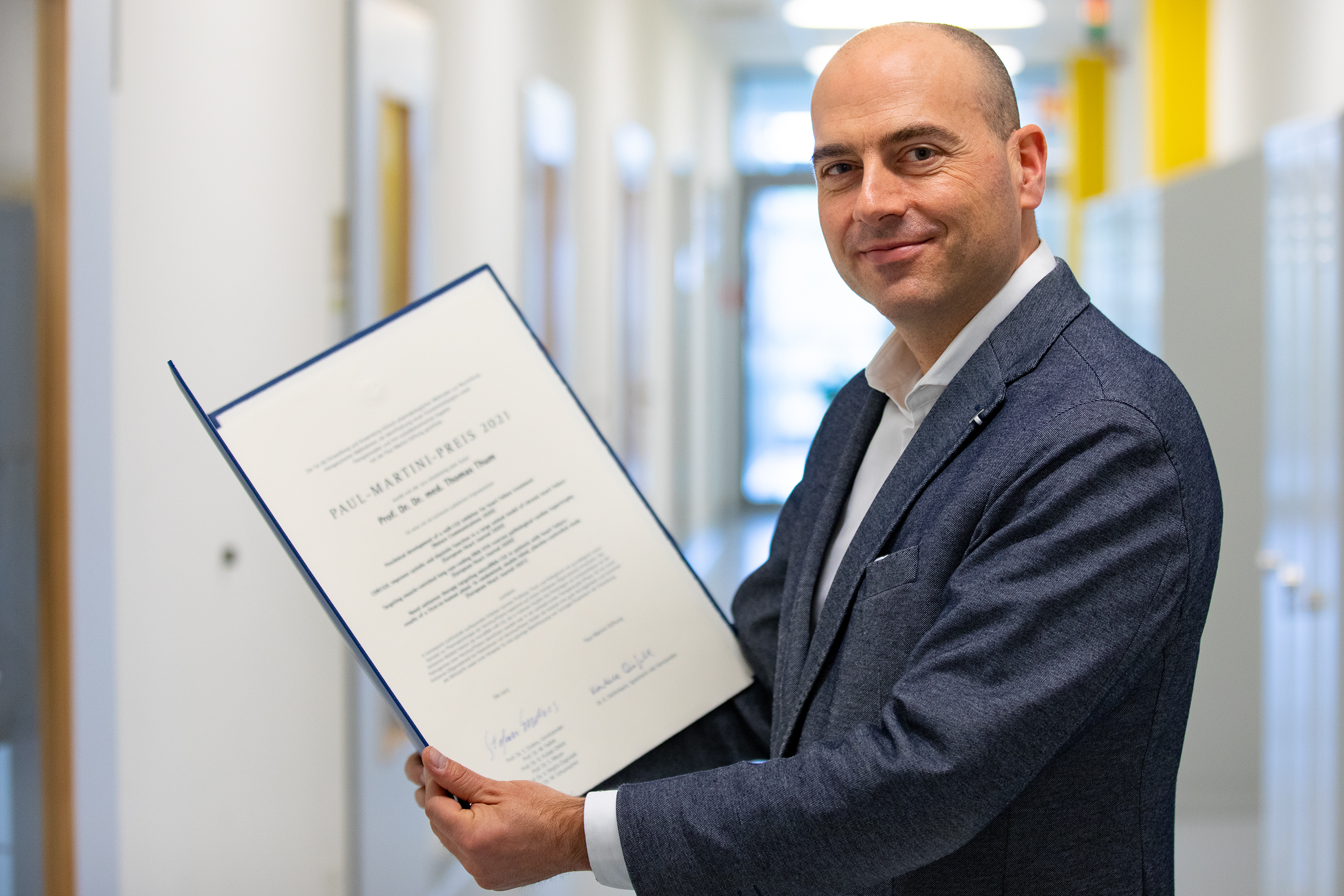 Chronic heart failure is a serious condition characterized by the heart's inability to pump sufficient blood to the systemic circulation and to adequately supply the cells of the body with oxygen and nutrients. To compensate for the insufficient pumping capacity, the heart muscle becomes abnormally thick and is thereby further weakened. To date, chronic heart failure is not curable and can be fatal. In animals and humans, non-coding RNA molecules regulate pathological growth of myocardial cells. Using engineered molecules that normalize these new target structures, Prof. Thum's team found positive results in animal experiments and was finally able to test one of these novel RNA therapeutics in a first clinical trial with 28 patients. The substance was well tolerated and the results suggest therapeutic efficacy. It is now planned to conduct another study with a larger number of patients. "Our study showed that the new microRNA blocker was therapeutically effective and free of side effects," Prof. Thum pointed out. The drug thus offers a new possibility to treat not only the symptoms of heart failure, as in the past, but to cure the disease even in the chronic stage.
The RNA therapeutics that Prof. Thum's team is investigating fall into the category of what is known as RNA-based medicine. The molecules normalize the heart muscle cells and prevent pathological remodeling processes. One of these RNA compounds, CDR132L, was produced at the biopharmaceutical company Cardior Pharmaceuticals, an MHH spin-off specialized in the development of innovative cardiac therapeutics based on research conducted at IMTTS. CDR132 could eventually become the first antisense drug for use in cardiology.