Minister Dr. h. c. Björn Thümler, Prof. Michael Manns, Prof. Ulrike Köhl, Prof. Norbert Krug and Prof. Thomas Thum discussed the potential for health research in Lower Saxony
The heart complementing the lung: Fraunhofer ITEM enters its fifth decade with new research topics
The Fraunhofer Institute for Toxicology and Experimental Medicine ITEM is entering the fifth decade of its existence with a major new research field – cardiovascular research and development of diagnostics and therapeutics based on RNA. Linking this with lung and respiratory research, the subject area in which Fraunhofer ITEM in Hannover (Germany) has specialized for the past 40 years, has great potential. On the occasion of the institute's 40th anniversary, the two Directors of Frauhofer ITEM, Prof. Norbert Krug and Prof. Thomas Thum, hosted a panel discussion on July 13. Together with Dr. h. c. Björn Thümler, Lower Saxony's Minister of Science and Culture, Prof. Michael Manns, President of the Hannover Medical School, and Prof. Ulrike Köhl, Director of the Fraunhofer Institute for Cell Therapy and Immunology IZI in Leipzig (Germany), they discussed how the institute's traditional focus on respiratory research and the future field of cardiovascular research fit together, what this means for the city of Hannover and the state of Lower Saxony as a center of science, and how people will benefit from this research.
Fraunhofer vs. Corona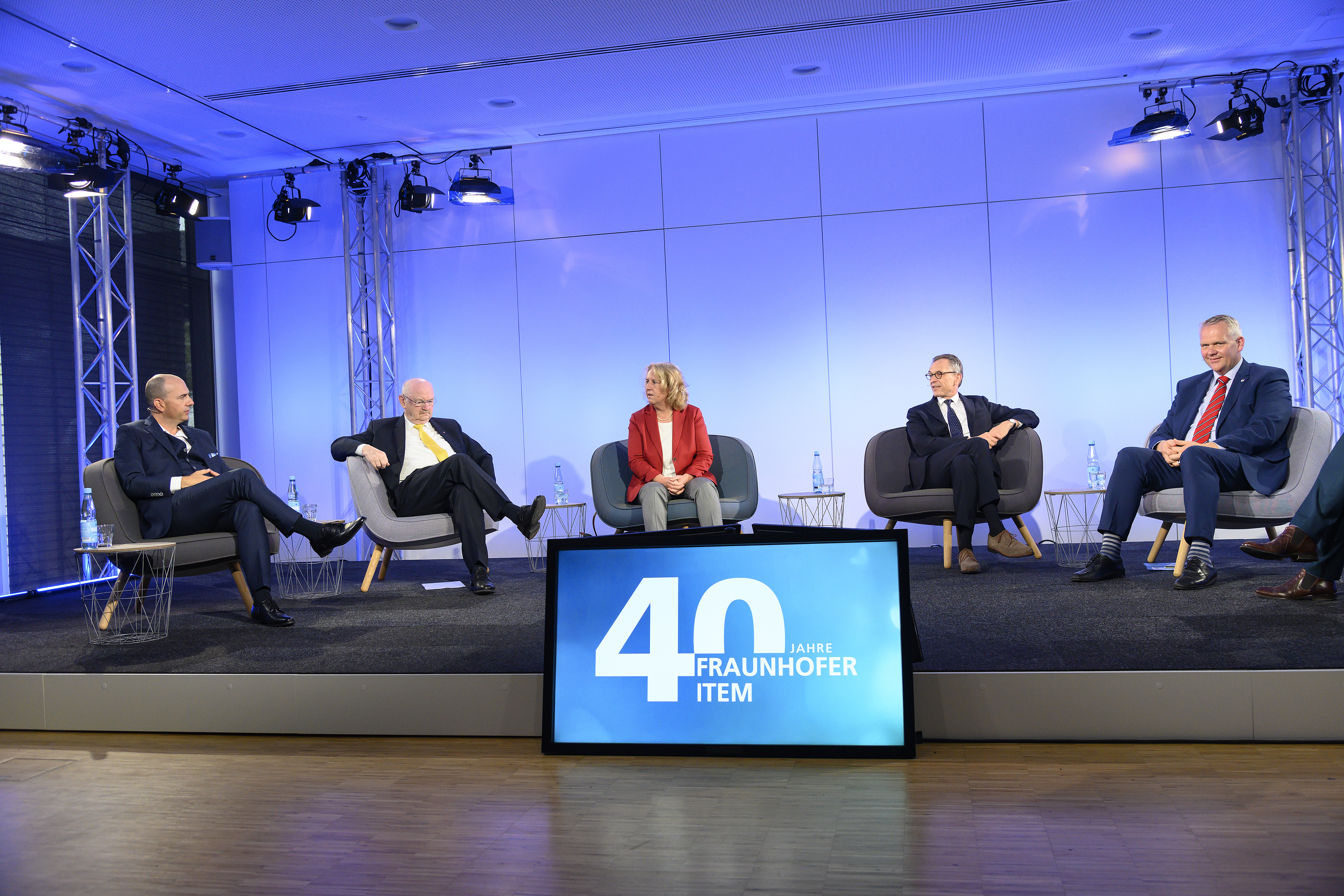 Aerosol research, toxicology and translational medicine targeting the lung have been the focus of Fraunhofer research in Hannover for the past 40 years. "Our research could scarcely be more relevant than it is at present. Fraunhofer ITEM makes an important contribution to fighting the pandemic: from the characterization of airborne aerosols and the development of air purification technologies, smart viral filters and non-invasive ventilators via drug repurposing, i.e. innovations based on proven active ingredients, to accelerated manufacturing of drugs for COVID-19 treatment," said Prof. Krug, Executive Director of Fraunhofer ITEM.
The heart complementing the lung
With Prof. Thomas Thum, specialist in cardiology and bioscience, joining Fraunhofer ITEM at the beginning of 2021, the institute's portfolio has been expanded to include cardiovascular research. The close connection between the two areas of research already became apparent in coronavirus research. SARS-CoV-2 infections not only cause stress on the lungs, but also massively affect the cardiovascular system. Prof. Thum,
Director of Fraunhofer ITEM and Head of the Institute for Molecular and Translational Therapy Strategies at the Hannover Medical School, and his team have identified a
potential approach to treating COVID-19, based on RNA technology. "The new link between cardiovascular research and the traditional focus on the lungs and respiratory tract at Fraunhofer ITEM offers enormous potential for translational research made in Lower Saxony, not only in the fight against the pandemic, but in general," Prof. Thum stated.
Transfer and translation in Lower Saxony
Transfer competence is a key component of the application-oriented research done at Fraunhofer. For example, Fraunhofer ITEM is closely involved as a partner in the biomedical translational alliance in Lower Saxony TRAIN. "In Lower Saxony, the transfer of health research into business and the translation into applications serving people are hallmarks of the research work performed by Fraunhofer ITEM and its partners," said Minister Thümler. He added that Lower Saxony stood for innovative and internationally prominent research in the life sciences.
Further strengthening cooperation in Hannover
The alliance of non-university research institutions and a university hospital, further reinforced by concurrent professorships at the Hannover Medical School and Fraunhofer, enables the closest possible dovetailing of research and clinical practice – ultimately for the benefit of patients. An example is the clinical research center CRC Hannover, where Fraunhofer ITEM conducts early-phase clinical trials, the Hannover Medical School likewise performs studies and hosts the Hannover Unified Biobank, and the Helmholtz Centre for Infection Research has a study center of the German National Cohort NAKO. The existing cooperations shall be further expanded. Prof. Manns, President of the Hannover Medical School, commented: "The geographical proximity and close interdigitation of university and non-university research in the direct vicinity of one of the largest university hospitals, as we have it in Hannover on our biomedical science campus, brings enormous advantages for basic medical research and the use of results in patients, known as translation. This takes us a substantial step closer to my vision of a Hannover Health Science Campus. I am all the more pleased that we are further strengthening our collaboration by having Thomas Thum, who is professor at the Hannover Medical School, join the institute management of Fraunhofer ITEM."
Health research at Fraunhofer
Health research at Fraunhofer has a decisive unique selling point: the close proximity of complementary R&D competencies, for example, from the engineering and materials sciences, automation, artificial intelligence, computer science or robotics. "The combination of these research competencies with medical research has great potential and is already being intensively used and advanced in large collaborative projects, also with other university or non-university research institutions and with partners from industry," said Prof. Köhl, Institute Director of Fraunhofer IZI.
Prof. Krug finally pointed out: "Key criteria for the success of a Fraunhofer Institute include not only scientific success, but also transfer competence. The institute's continued development is essential in making our vision – being pioneers for sustainable health – come true."
A recording of the entire panel discussion (in German language) will be available on this website from July 14, 2021.